For Christmas weekend, our first full weekend in Jordan, we stayed at the Kempinski at the Dead Sea. Â (Tip: we booked on Hotels.com through fatwallet, getting not only a huge holiday weekend special, but additional cash back through fatwallet!)
Here are some pictures of the resort, which is BEAUTIFUL.
Full breakfast seems to be a common inclusion in mid- to high- end hotels in Jordan.  The Kempinski's sets the bar for fancy breakfast.  Above is Chef Yousef.  Chef Yousef trained for two years at the Royal Jordanian culinary institute and then trained for another year in Brazil (where his mother is from).  He worked for several years in Brazil before coming back to Jordan.  Chef Yousef made Kate special eggs and pancakes each morning.  At the end of our breakfast, he carved beautiful fruit animals for the kids to eat.  He also spent a good 20 minutes explaining all the dishes to me, advising me to try different local offerings, and explaining how they were prepared.  (I'm still pretty sure I can't make a good hummus.)
Fresh honey, including the honeycomb, was one of the things he recommended. Â This comes from a local farmer. Â Trying this was like having honey for the first time.
The extensive bread table…
The kids, who brought along books to occupy themselves so that we could eat for hours (the rest of the meals at the hotel were very expensive… we filled up in the morning, and then took our luck to find things in our outings around the Dead Sea for the rest of the day.)
View from the breakfast dining room.
Another view. Â This pool was heated, but was reserved for adults (ages 14 and up).
Looking north. Â That's the lazy river. Â It was not heated, so we did not get in! Â (Much to Will's disappointment. Â He would have braved frostbite for it, we think.)
Mud attendant.
Steps down to the rocky shoreline. Â You are at the lowest point on earth! Â Says a sign nearby.
Another pool. Â Also unheated. Â The kids pool is directly beside this one, just a little smaller, with a similar view. Â It was heated and we swam in it!
Christmas decor everywhere! Â (Santa roamed the grounds and gave chocolate to the kids over and over again. Â The hotel left presents in a stocking for us — dead sea salts — in our room on Christmas Eve.)
View of Israel at night, over the Dead Sea.
Restaurant at night.
Lazy river at night.
Ancient olive tree.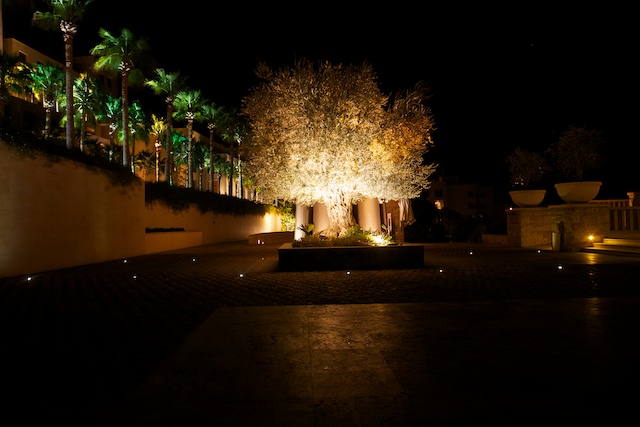 Lap pool up by the main building.
The grounds were a travertine dream — beautiful handiwork, incredible stone masonry, lovely landscaping.  It is a beautiful property in a fantastic place!  A wonderful place to have our Christmas holiday!