It is Break Week.  The week between school's end and summer camp's start, when families are suppose to take off and Be Families.
Here's our secret: find owners directly and work out last-minute deals.  Granted, even if this weren't my secret mode of finding fabulous rates, we'd end up here since we can't seem to make any decisions about travel until the last minute.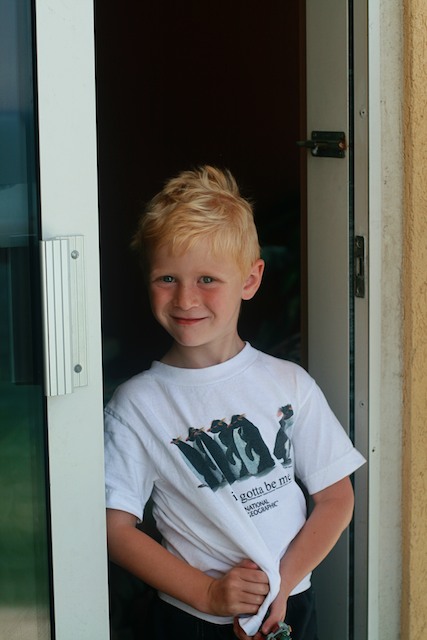 Beach trivia and travails:
— Will reports having "like, 102 girlfriends" to his potential beach buddies.
— We may need to go the Speedo route for Will, who is prone to salt/sand rash on his inner thighs.
— Kate's preferred hat is Will's swim cap.
— We saw the new Grand Canyon IMAX at the Naval Aviation Museum.
— Paul and I (finally) watched "Juno" and are going to watch Slumdog Millionaire next.  I think that seeing these two will completely catch us up on current films, right?
— I found a whole sand dollar (dead, not live) at our last beach trip and do not believe I will trump that shelling moment on this trip, despite trying.
The view is a little different this time (1 floor down, on the other side of the building, interior unit.)
Other plans: Pier walk and sailing.