Day Three was our last full day in The Land of the Mouse and our last day to visit the parks.  If you've been following the Mouse-venture, you'll remember that we took off Day Two in favor of a less packed and hurried day so that we could enjoy our second and last day to explore the Kingdom. 
There was a great deal of debate about what to do on our last day.  Paul was routing for EPCOT, but knowing how far away the attractions are from each other and understanding that there wasn't as much that the kids would be interested in seeing, I hesitated.  Ditto for Animal Kingdom, particularly since we live a few blocks away from a spectacular zoo.  The Studios (or, DHS, in the lingo of The World) had a few attractions we wanted to do with the kids… Voyage of the Little Mermaid live stage show, Playhouse Disney show, the Muppets 3D, and (for Will) Star Tours, including the "How to be a Jedi" training outside of the attraction. With that in mind, we started the day bright and early — arriving to park in the very first row of cars right outside the gate at Disney Hollywood Studios.
As we waiting for the park to open, a cameraman and (scary) lady walked through the crowd with a microphone, soliciting auditions. Persons she favored received numbers for the day's finals in The American Idol experience; winners from each day get special passes to audition first in line for next season's Idol.  And while that was entertaining in a "Welcome to the Dollhouse" gutwretching sort of way, we couldn't help but feel that something about the crowd was just…. wrong.  Usually Disney crowds are a mix of everyone.  Europeans with practical shoes and trendy hiking clothes, blue-blooded Americans with expensive strollers and kids way too young, regular family of four folk with sneakers and backpacks, and then your salt-of-the-earth types who decided to forgo this weekend's Nascar event in favor of a trip to Orlando.
The crowd around us appeared to belong most heavily to that last group.  Sort of like a few hundred Joe the Plumbers.  It wasn't that we were bothered by it — it was more that it was just strange. I was having a hard time finding high-strung looking parents of whiny young children (our favorite crowd watching past-time.)
FINALLY. The doors open and we go in and right as we swipe our tickets, they are there.  ESPN.  With blaring music and sports fan information sheets.  WHAT?  Apparently, it's ESPN DAY at the park!
WHAT?!?
Okay, whatever, we're here, we'll deal.  This is what we say and that's what we start to do.  We go through the dance of getting the Disney stroller and start off towards the few things we're there to do.  But at the first attraction, we're pushed aside by The Harlem Globetrotters (maybe this would have been a big moment for someone else, but I couldn't have cared less) and find that the line to even FASTPASS the Toy Story attraction is 30 minutes long.  And the start times to the other shows we're there to see?  Not for at least another hour, because ESPN cheerleaders are there.  The crowd is suddenly enormous, swallowing us down in a sea of chewing tobacco and Aqua Net, with horribly mixed AC/DC gunning so loud that Paul can't even hear me screaming beside him.
Just then, we're approached by an extra perky MouseLand Team Member.  I'm ready.  Starting with, "I know this isn't your fault…" I unload on her.  She sends us to Guest Services.
Disney folk are expert at customer service and Crazy Parents are their specialty.
In Guest Services, I explain that my Disney experience is relatively extensive, having had grandparents who worked for The Mouse for two decades (ahem), and with a few mentions of "un-Disneylike" and an expertly placed tear, asked for my morning back.  Not just my day's ticket, but another entire day.  I wanted to re-do.  As in, a free park day for me and my family so that I could have a chance to restart our visit at a park from opening — on a day that wasn't overrun with cheerleaders and dull-looking athletes.  (Our argument: we called ahead, there was no notification of the event, and had there been, we would have done something else.)  Yes ma'am, sure and absolutely!  (Apparently, even the employees had been left in the dark.)  Five minutes later we were holding day park-hopper passes for three and exiting Hollywood Studios.
We were inside Animal Kingdom before 10:30.
Animal Kingdom is a beautiful park with "lands."  In Africa, you go on safari.  No zoom necessary, because the animals are RIGHT THERE.  As in, this baby reticulated giraffe almost ate Will's hat.
I'd never actually seen a baby elephant that tiny before.
No worries, Mom was right there, too.
Lots of Rhinos.  That's Will's head on the left.  I wasn't kidding about the whole THEY ARE RIGHT THERE thing.
The kids rolled with all the changes and got into character soon.  They LOVED the 3D bug show.  It was actually an interesting test, considering that it's a bit intense… at one point, spiders and wasps attack the audience (not to give anything away, but it's really a 4-D experience).  I kind of remembered what was coming and jumped in to cover Kate's eyes through part.  (Think, spiders falling from the ceiling and smoke and sounds of bugs whizzing by your ears.  It's pretty cool, or pretty terrifying, depending on your point of view.)  Kate?  The TWO YEAR OLD?  She loved it.  Go figure.
The Tree of Life is the centerpiece of the park.  It's what Cinderella's Castle or Spaceship Earth is to Magic Kingdom or EPCOT — the stunning visual that holds everything together.  As you approach it and walk around and through it, you can see hundreds of animals carved into the tree.
We had a nice lunch on the lake (Animal Kingdom has better park food, by virtue of the global cuisine in Africa and Asia), supplemented by our packed drinks and snacks.   Then we saw The Festival of the Lion King, which is a stunning theatre-in-the-round performance.  It's sort of a combination 'best of' Lion King songs and characters with dancers, stilt walkers, singers, animatronics, moving sets, acrobatics, and audience participation.
The kids LOVED it.  Kate was all eyes and dropped jaw for the first 10 minutes and then… got a bit heavy in my arms.  SCORE!  She fell asleep.  We couldn't have planned it better.
With Kate completely passed out, we decided to leave Animal Kingdom.  (The other thing we wanted to see, the staged "Beauty and the Beast," wasn't showing until 2 hours later.)  We figured that it didn't make sense to go back to the hotel since Kate was already napping.  So, we went over to Magic Kingdom.  Three parks in one day!
We arrived around 2:30 and decided to get a snack on Main Street's Bakery while an afternoon parade went by.  Along with the sandwich, we bought a frozen latte that Paul and I shared.  I have no idea what was in it, but for the rest of the day, we were ROCKET FUELED.  We literally skipped from attraction to attraction and had another perfect afternoon.
We rode the things we'd missed the first time around, like the Wedgway People Mover, the maintenance of which was my grandfather's number one job.  It's just a little tram that jets you around Tommorrowland, letting you see inside Space Mountain and giving great views.  Kate LOVED IT.
In fact, Kate loved it so much that we rode three times in a row while Paul and Will drove the cars in the Motorspeedway.
We also re-rode our favorites… Peter Pan, Pooh, and It's a Small World.  This time, I played around with the camera.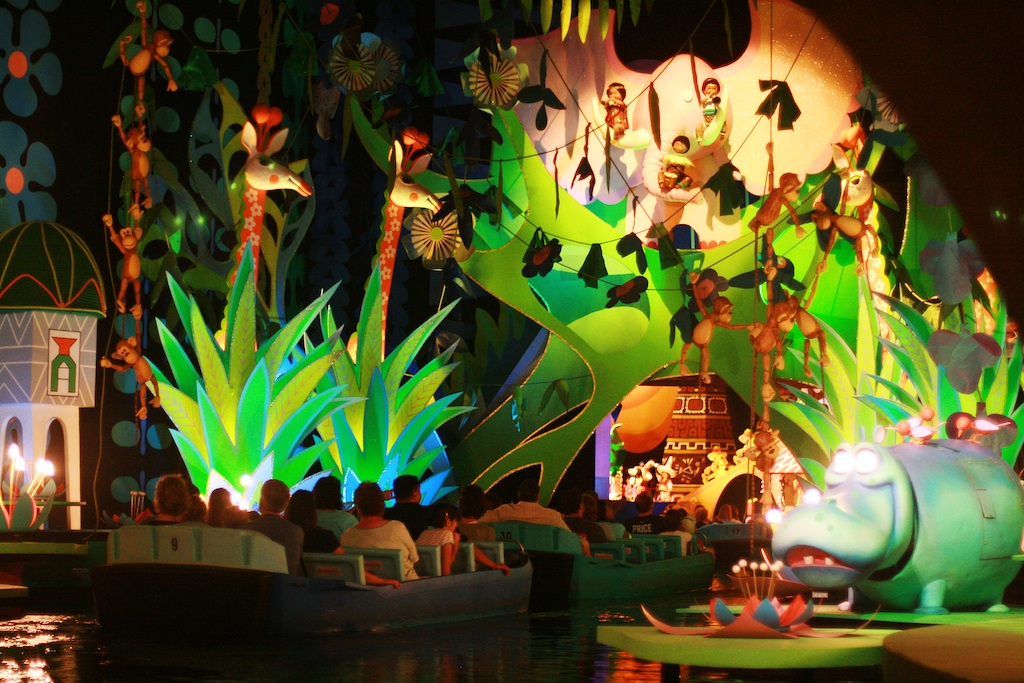 Yeah, the song can drive you nuts after awhile.  But the kids could have ridden it all day long.  And honestly, I think I'd notice something new every time.
She winked at Will.  Really.
I love the spinning sun in South America.
Not all of the dolls are animatronic, but all are beautifully detailed.
When Paul and I rode this years ago, the ride had some sort of malfunction and we were stuck in this room for 10 minutes.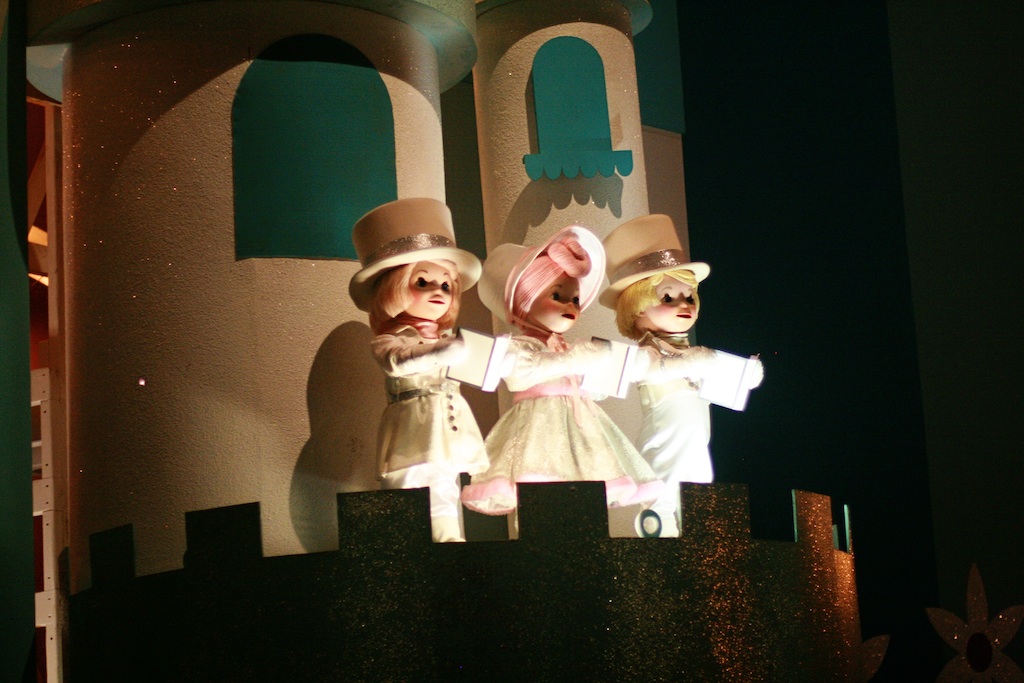 We decided to stick around for the fireworks, which were beautiful two nights before.  I didn't have a tripod, so these were rough pictures.  And, I didn't want to leave the kids in the crowd to get a better picture spot.
The castle changes colors, by the way.
We watched the fireworks and were out with the first throngs of crowd.  No problem!  Wonderful end to a wonderful trip…
Goodbye, MouseVille!
We're totally ready to go back.  Who's with us?!?